Whatever your storage needs - we can help!
Stow It All is locally owned and operated and has been providing storage solutions for over 30 years. We provide self-storage units in New Brunswick and Prince Edward Island that fit all your needs – large or small!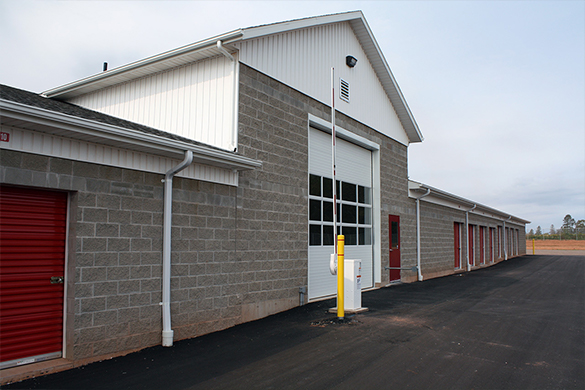 We have your solution
Whether you own a business, are moving, or simply sizing down, we have unique storage units for your ever-changing needs.
Variety of sizes
We have a self-storage unit suited for every lifestyle, family, and business. Explore our Size Guide to discover the best unit for your needs.
Flexible Payment Options
No credit card necessary to rent or reserve a unit – however, credit cards offer the convenience of automatic renewal payments.
No Long-Term Commitment
We're committed to you but we are not overly committed to commitments. Rent or reserve today with a commitment of only 4 weeks and stay as long as you like.
Secure facilities
Our properties are guarded with twenty-four-hour video surveillance, fencing and electronic security gates.
Contactless move-in
Move-in without contact by reaching us online or over the phone. We'll send an e-lease to be signed and paid for through your credit card. If your unit requires a key to access the hallway, you can pick it up at our office.
24/7 access all year long
You can access your storage unit anytime with a personal gate code. Our office hours are 9 am to 5 pm on Monday to Friday.
Disc locks available
You can bring your own lock, or you may purchase one at our office. We carry highly recommended and very secure disc locks.
Drive-up & Inside Units available
Our drive-up units have a roll-up door for effortless access to your belongings. We recommend a drive-up unit if you're storing heavy belongings such as large furniture, or if you will require more frequent access to your unit.
Alternatively, our inside units are located a few steps away from the entrance with large hallways and doors. Indoor access is ideal for avoiding harsh weather or elements and allows you to organize items in the hallway.
For the best of both worlds, our Inside Drive-up units offer the convenience of drive-up access inside a heated drive-thru - available at our Sherwood Road location.
We offer the option of a Climate Controlled unit for all of our unit types
Find a solution that is right for you