Pricing
---
Key Factors to Consider to Determine the Storage that Best Meets Your Needs and Costs
Unit size
The amount you decide to store and the unit size that you require is another major factor in the pricing of your storage unit. Most facilities offer storage units in various sizes to accommodate a wide range of storage needs. Make use of our size guide to get an idea of how much space you'll need.
As expected, the larger the unit, the higher the cost. Before you decide to move your items into storage, we recommend talking to one of our expert staff to help you determine the right size and to strategize the ideal storage solution to optimize your storage space. We offer storage tips and supplies to help you make the most of your storage unit.
Heated vs Not Heated
A heated unit keeps the temperate above freezing during the cold months and overall provides a more controlled temperature variance over the seasons. You should determine whether your possessions would benefit from these features. An unheated unit provides a clean, dry and secure way to store your belongings at a lower cost.
Drive-up vs Inside Access
A drive-up unit is convenient with a roll-up door, providing easy and immediate access. An inside unit is accessed through an outside door into a hallway leading to your unit. While your unit is a few steps further away from your vehicle, the hallway can be a convenient place to organize your items before loading your unit. This can be a great feature on bad weather days. The inside access unit is less costly than a drive-up unit. Both drive-up and inside access are available heated and unheated.
Ground Floor vs Second Floor
A ground floor unit is the easiest and most convenient access to a unit, reducing the need to double handle items during move-in and move-out. A second-floor unit is more cost effective and perfect if you plan to store your possessions and leave them.
Helpful Hints
If you plan to access your unit frequently, consider a slightly larger unit to provide room to move through the unit
If you plan to leave your items, choose a smaller unit and pack it efficiently
Perhaps choose a second-floor unit for cost benefits
View current prices and find a unit that is appropriate to your needs ↓
Find a Unit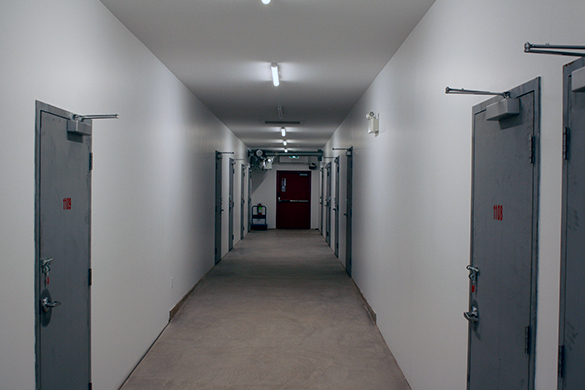 Hallway at our new Charlottetown - Sherwood Road location.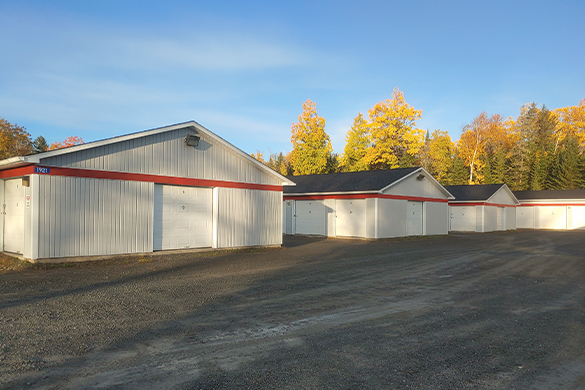 Ample vehicle space at our Fredericton - Hanwell Road location.