FAQs
As storage experts for over 30 years, we have all your answers and solutions when renting storage units in PEI and self-storage in Fredericton.
---
Frequently Asked Questions
1) How do I decide what size storage unit I need?
The amount you needto store will determine the unit size you require. We offer a variety of sizes to accommodate a wide range of storage needs. Our size guide will help you estimate the size of unit you need. You can always talk to our experienced staff, they can help.
2) Do I need a Climate Controlled unit?
A Climate Controlled unit keeps the temperature above freezing during the cold months and overall provides a more controlled temperature variance over the seasons.
An Non Climate Controlled unit provides a clean, dry and secure way to store your belongings at a lower cost.
3) Should I rent an inside or a drive-up unit?
A drive-up unit is convenient with a roll-up door, providing easy and immediate access to your possessions.
An inside unit is accessed through a hallway leading to your unit. While your unit is a few steps further away from your vehicle, the hallway can be a convenient place to organize your items before loading your unit. This is a great feature on bad weather days. The inside access unit is less costly than a drive-up unit.
We offer the option of a climate controlled unit for all of our unit types
4) Should I consider a unit on the ground floor or the second floor?
A ground floor unit is the easiest and most convenient to access a unit, reducing the need to double handle items during moves.
A second floor unit is the most cost effective and perfect if you plan to store your possessions long term and not require frequent access.
5) Can I do a contactless move-in?
Yes, on-line or by phone. We will send an e-lease for your e-signature, and you may pay with your credit card.
Some units require a key to access the hallway, which is available at our office.
6) Do I need to sign a contract to rent a unit?
Our lease runs for four weeks and is automatically renewed until you decide to move out. You are not locked in after the initial four weeks.
7) Do I need a credit card to rent a unit?
We do not require a credit card to rent or reserve a unit, however, many customers prefer the convenience of a credit card as rental fees can be automatically charged when rent is due.
8) What are my payment options?
Choose the payment option that best suits your needs; credit card, debit payment, e-transfer, cheque or cash.
9) How do I cancel my lease agreement?
You can vacate your storage unit anytime you choose. We appreciate it you can provide us at least two days notice. You may do this by email, phone or in person. There is no additional paperwork to complete. You simply remove all your items, the lock, and let us know that you have moved out.
10) Will I be able to access my unit when the rental office is closed?
Yes, we provide you with an access code to open our security gate, giving you 24/7 access. Our office hours are Monday to Friday 9am to 5pm.
11) Can I bring my own storage unit lock?
Yes, you are welcome to provide your own lock. Please ensure that the type of lock you are using fits properly on the storage unit. We sell locks at our office if you require one.
12) What security is available?
Our facilities are equipped with an electronic security gate, fencing, and twenty-four hour video surveillance. In Charlottetown at our Sherwood Road facility, all the units are individually alarmed.
13) Are there any items that are prohibited in storage?
Yes, there are many hazardous items which pose risks to your goods or the goods of others. These are clearly outlined in the lease you sign and include such items as food, hazardous waste, firearms or any material that may decay or leak into your or someone else's unit.
14) Do you have any special features for commercial clients?
We will receive your parcels directly into your unit, allowing your staff to be on the road and not waiting for shipments.
On-site day parking and reduced rates for trailer parking.
Helpful Hints
If you plan to access your unit frequently, consider a slightly larger unit to provide room to move through the unit
If you plan to leave your items, choose a smaller unit and pack it efficiently
Perhaps choose a second-floor unit for cost benefits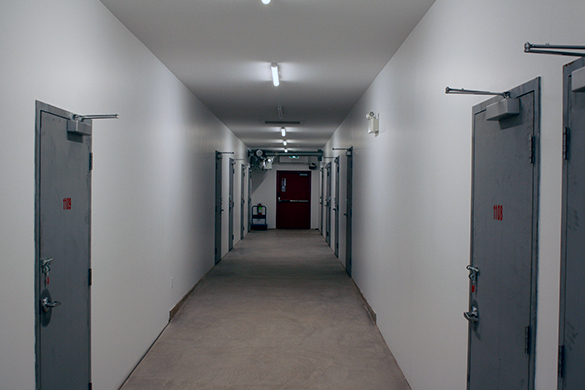 Hallway at our new Charlottetown - Sherwood Road location.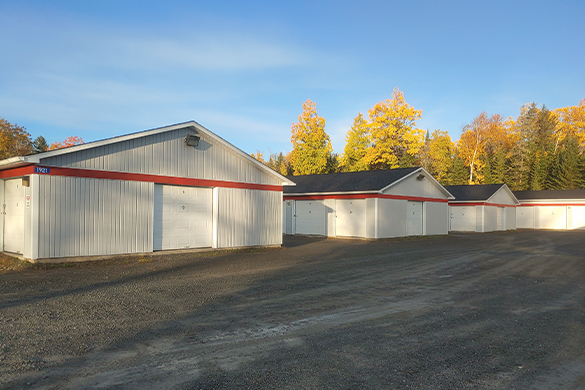 Ample vehicle space at our Fredericton - Hanwell Road location.
View current prices and find a unit that is appropriate to your needs ↓