Location
1080 Brookside Drive,
Fredericton, NB
E3G 8T8

Phone: 506-453-9188
Office Hours
Mon - Fri 9:00 a.m. – 5:00 p.m.
Sat (Apr – Oct) 9:00 a.m. – 12:00 p.m.
Access Hours: 24/7
Self Storage Conveniently Located in Fredericton on Brookside Drive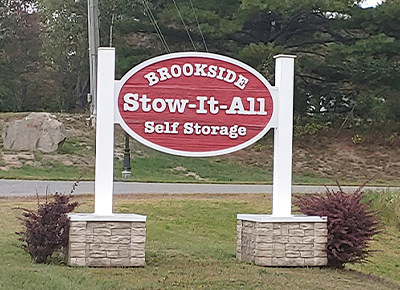 Stow-It-All's Brookside Drive self-storage facility is one of two options conveniently located in Fredericton. Servicing the northern part of the city, our Brookside Drive location is near wherever you may find yourself in Fredericton. Easy to find, this self-storage facility is just 15 minutes from the Regent Mall. Competitively priced, we offer affordable self-storage units in a variety of shapes and sizes. No matter what you plan to store, we have the right storage space for you. Unit types include:
Inside, locker-style units equipped with heat.
Drive-up storage spaces
Outside parking spaces in a variety of sizes.
High volume storage (shipping containers).
Stow-It-All prides itself on providing secure and safe self-storage units to its customers. If you are unsure what storage space is right for you, just contact one of our knowledgeable representatives and they will support you in choosing the unit that accommodates your storage needs. If you already know the unit you need, you can quickly and easily book online via our website. Our selection menu outlines the features included for each rental option. Unit features at our Brookside Drive location include:
Climate-controlled storage.
Easy access drive-up units.
24/7 access to your storage unit.
Friendly staff.
If you are located in the Fredericton area, the Stow-It-All facility located at 1080 Brookside Drive is conveniently positioned to serve as your self-storage provider. Stow-It-All is the best self-storage option near you.