Location
1921 Hanwell Road,
Fredericton NB
E3B 2R7

Phone: 506-458-9685
Office Hours
Mon - Fri 9:00 a.m. – 5:00 p.m.
Access Hours: 24/7
Self Storage Conveniently Located in Fredericton on Hanwell Road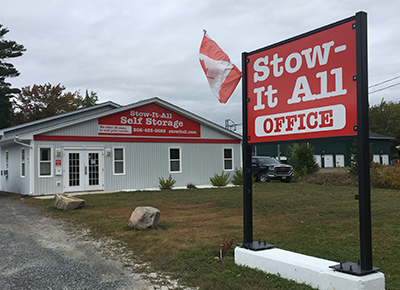 Our Hanwell Road self-storage facility is located just southwest of Fredericton's city centre. Only a 10-minute drive from Regent Mall, no matter where you are located in the area, it's nearby self-storage that's easy to access, no matter what time of day – 24/7. Stow-It-All understands that everyone's storage needs are unique and that's why we make a variety of different self-storage units available to our customers. Unit type options include:
Inside, locker-style units equipped with heat.
Inside, hallway-access units
Drive-up exterior units
Outdoor parking spaces.
Stow-It-All's self-storage spaces are kept clean and tidy and your possessions are kept safe and secure while storing with us. We are proud to serve the city of Fredericton with two conveniently located facilities – so, whichever location you choose, we're just down the road. Our locally owned and operated business is committed to providing its customers with the best self-storage experience possible, which is why we offer storage features such as:
Easy drive-up access to exterior storage units.
Access to the storage facility at any time.
Self-storage units with climate-controlled environments.
Fantastic customer service.
No matter what you need to store, Stow-It-All has a self-storage unit that will accommodate your things. If you're in the Fredericton area and are looking for self-storage near you, go with Stow-It-All to get cost-effective, secure storage that you can count on. Rent a unit at our 1921 Hanwell Road location online through our website today.