Seven ways Self-Storage Rentals Can Help Your E-commerce Efficiency!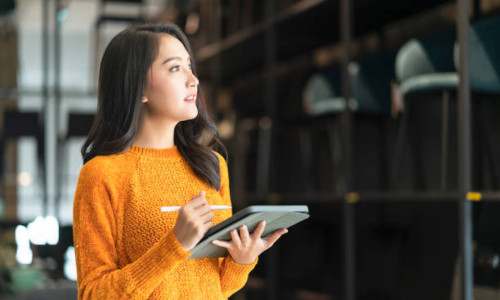 Are you a business owner aiming to reach a larger audience than ever? Well, you may be in luck—thanks to the continual transition of retail towards e-commerce.
E-commerce is a force at work. Were you aware that global e-commerce sales were nearly 5 trillion USD in 2021 alone? Furthermore, experts predict this figure to grow almost 50 percent by 2025—with sales reaching 7.4 trillion USD!
You may struggle to facilitate inventory and find adequate storage room at home. As experts providing storage units in PEI and New Brunswick for over 30 years, we've compiled methods on how our services can optimize your online business and keep clutter away from home.
1. Storage units allow for work/life separation
As an e-commerce business owner, you probably value the convenience of working from home. But unfortunately, working from home often makes it challenging to separate work from life.
Storing your inventory away from home allows for a healthy balance between business and your personal life. 
Additionally, suppose you share your home with a partner, your family or roommates. In that case, inventory space is likely hard to come across. With hybrid work and schooling here to stay, storage rentals are the best way to ensure your inventory doesn't interfere with personal belongings.
2. Budget-friendly storage space
The cost of real estate is sharply rising across the Maritimes due to the increased interest in relocating here from other provinces. 
With higher demand and recent inflation, renting or purchasing a commercial studio to manage your business or inventory can be a costly mistake. 
Luckily, we have storage units in Fredericton and Charlottetown to suit every budget, lifestyle and business. Additionally, you can rent without any long-term commitments. You can reserve today and rent for as little as four weeks—but you're welcome to stay as long as you need.
3. Strong security measures
Storage room rentals further benefit e-commerce business owners by providing high levels of security for your goods. Replacing stolen or damaged inventory is highly costly, complicated and time consuming it can result in delayed shipments that ultimately hurt your customer satisfaction. 
All of our properties are guarded with 24-hour video surveillance, electronic security gates and fencing. Also, we sell highly secure and recommended disc locks for your convenience.
4. Forego e-commerce fulfilment
Fulfilment is a term in digital commerce involving the preparation and delivery of a customer's order. You can rely on a third-party company to store, pack, label and ship your orders. Unfortunately, this is a very costly service—companies often charge up to 20% per sale!
Suppose your business operates locally, or you're just starting out. In that case, it's ideal to save money by delivering sales yourself—or by meeting customers at a physical location. Amazon and other well-known e-commerce services charge fees to resellers for storing inventory. Therefore, many Maritime business owners are looking to our storage units in Fredericton and Charlottetown as a cost-effective way to fulfil and manage inventory. Our affordable plans and rentals of all sizes help facilitate businesses at every stage.
5. Rotate seasonal inventory
Do you sell different items between seasons? Additionally, demand inevitably fluctuates between seasons and holidays.
Renting a self-storage unit is an excellent way to prepare your inventory for high time or storing away items that are irrelevant to the season for later sale.
6. Climate-controlled units protect sensitive inventory 
A climate-controlled storage unit protects sensitive goods from mould, dust, mildew, moisture, elemental damage and freezing.
Sales of sensitive goods—such as electronics, media devices, leather products and even wine are skyrocketing through online platforms. If your business sells these perishable items, then climate-controlled storage is a must.
7. Flexible storage arrangements 
Much like the world of e-commerce, your business faces constant changes. We have self-storage units to accommodate you every step of the way. Best of all, you can access your highly-secure unit 24/7 with a personal gate code.
The beauty of an online business is the flexibility—and opportunity to work anywhere. As mentioned, there are no long-term commitments at Stow It All; however, we can also store your goods long-term if you plan to do business overseas.
Are you ready to make a move?
Whether you're starting an e-commerce business, expanding or temporarily going abroad, we have storage solutions that can help with all of your storage needs!

Stow It All is an island-owned and operated company with over 30 years of self-storage expertise. 

We have self-storage units in New Brunswick and Prince Edward Island to accommodate your needs and lifestyle demands. So move in today–you can register online any time!

Click here to rent a storage unit near you!

on Wednesday, 14 September 2022. Posted in Blog